News
---


Addressing the possibility of a beta during the Spike VGA Awards at the weekend, studio co-founder Vince Zampella said: "We're definitely thinking about it. We don't have an answer yet, but we're definitely thinking about it."

Zampella also confirmed that the Xbox 360 and Xbox One versions of Titanfall won't feature any kind of Kinect support, noting that Microsoft's device "didn't fit the game", GameSpot reports.

Respawn also used VGX to reveal footage of two new Titanfall Titan classes. Zampella said Titanfall is "content locked" and that development is now a matter of balancing and refinement.

Officially revealed at E3 in July, Titanfall went on to be named Best of Show at the E3 Game Critics Awards.

CVG said in a Titanfall preview earlier this year: "Mixing daring acrobatics with disciplined FPS play is a wondrous, free-flowing merger of two genres. This is wire-fu warfare. This is how much fun we would have had if Soap and co entered The Matrix."

EA has announced a Titanfall release date of March 11, 2014. The title will be exclusive to Xbox One, Xbox 360 and PC.
First, we want to thank the fans out there that are playing and supporting us with Battlefield 4. We know we still have a ways to go with fixing the game - it is absolutely our No. 1 priority. The team at DICE is working nonstop to update the game. Since the Battlefield 4: China Rising expansion pack was already in the final stages of development by the time issues began with Battlefield 4, we decided to fulfill our promise to deliver it this week, but we're not moving on to future projects or expansions until we sort out all the issues with Battlefield 4. We know many of our players are frustrated, and we feel their pain. We will not stop until this is right.
From: www.pcgamer.com




Publisher Electronic Arts announced that DICE is halting development of all future projects and expansions until it sorts out issues currently affecting the PC and console versions of Battlefield 4.

"We know we still have a ways to go with fixing the game," an EA spokesperson told PC Gamer in a statement. "It is absolutely our #1 priority. The team at DICE is working non-stop to update the game." The spokesperson also asserted a commitment to fix player issues. "We know many of our players are frustrated, and we feel your pain. We will not stop until this is right."

EA did not say how the decision will affect the development of projects we know it is working on, such as the sequels to Mirror's Edge and Star Wars Battlefront, but it has also yet to announce release dates for those games.

EA also said that the only reason it released the China Rising DLC yesterday was because it was "already in the final stages of development," before the publisher decided to refocus DICE's efforts on Battlefield 4's existing technical issues.

As we reported yesterday, many players were unable to join China Rising matches after the DLC hit yesterday. "This fix will take some time to be fully completed, but players should be noticing normal gameplay behavior soon," DICE said on Electronic Arts' official site yesterday. China Rising was also released alongside a patch that was supposed to improve connectivity and stability, but clearly DICE is not satisfied with the results.



The Steam Machine won't cost as much as a high-end PC. Instead, Valve's first console comes with a price tag of $499, the same as the Xbox One, as part of a package deal that also includes the Steam controller and comes standard with Wi-fi, Bluetooth and a 500GB hard drive.

Source: gamerant.com & theverge.com

Deals like Skyrim at $7.49, Bioshock Infinite for $19.99 or Sleeping Dogs for $4.99 are hard to pass.

They are also having daily deals that change...daily so check em often!!
Titanfall will make an appearance at Spike TV's VGX event - formerly the Spike TV VGAs - on December 7.

Event host Geoff Keighley has taken to Twitter to tease exciting announcements about Respawn's debut game.

The appearance of a new teaser website has sparked speculation that a Fallout 4 announcement is on the way.




In case you missed it, you can still catch the Battlefield 4 Second Assault live stream replay from Tuesday. If you tune in, you will experience unedited gameplay from the Second Assault expansion that features reimagined BF3 classics such as Operation Metro and Caspian Border.

Operation Metro, Caspian Border, Gulf of Oman, and Operation Firestorm have all been pushed to their limits thanks to the power of Frostbite 3. Veterans will feel right at home in Second Assault, but should also be prepared for new weapons and Levolution moments, slight changes in the map's layouts, all-new game mode Capture the Flag – not to mention the return of the Dune Buggy.

Gameplay shown is from PC with Xbox controller hooked up, as it's sponsored by Xbox One.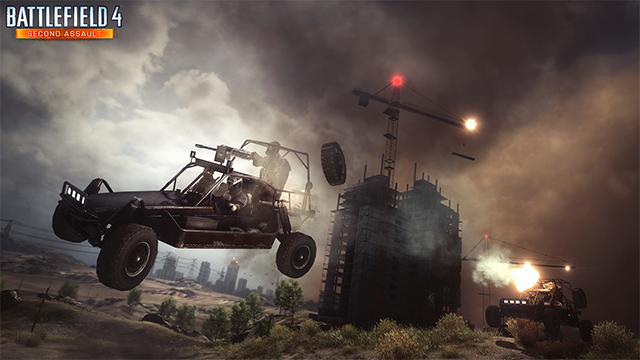 Click to watch the replay -----> SECOND ASSAULT

New trailer, and it's different from the video below.



http://battlelog.battl...ander-mode-app-out-now-2/

You've been enjoying Commander Mode on your PC and console, deploying war assets and issuing commands to your Battlefield 4 team mates. Now, the power of command extends to tablets as we release the Battlefield 4 Commander app! Thanks to a slick interface and intuitive touch controls, the app will give you the full Commander experience on the go.

Battlefield 4 Tablet Commander is available now on iOS tablets (iPad 2 and up, aswell as iPad Mini, iOS 6.1 and up) and on Android tablets (Screen sizes 7" and up, 1ghz dual core,1024mb ram,1024×600 resolution, Android 4.0.3 or newer).

Q: I play Battlefield 4 on Xbox 360 or Playstation 3. Can I still play Commander on tablet?
A: Absolutely! The Commander app works with any platform you can run Battlefield 4 on.

Q: How do I select a specific server to join?
A: You can select specific servers to join through the Battlelog app. Simply go into Multiplayer, select a server, and join using the "Commander" button. This will automatically launch the Commander app and join the server.

Q: Does the app work over 3G?
A: Yes.

We believe you will find the Battlefield 4 Commander app powerful and entertaining, but don't take our word for it! Check out LevelCapGaming's review.

Get the Battlefield 4 Commander app for iOS
Get the Battlefield 4 Tablet Commander for Android